Reflexology, also known as zone therapy, is a practice of applying pressure to specific points on the feet, ears, and/or hands. This is done using thumb, finger, and hand massage without the use of oil or lotion – based on a system of zones and reflex areas that reflect an image of the body on the feet and hands, with the premise that such work on the feet and hands causes a physical change to the supposedly related areas of the body.
The Complete Guide To Reflexology
What the Science and Research Community say:
"…studies included in this review, where psychological parameters were assessed, a significant improvement in health and well-being was determined and this factor alone had a positive effect on disease outcomes, prognosis, and rehabilitation.

The Physiological and Biochemical Outcomes Associated with a Reflexology Treatment: A Systematic Review
Feet
To give a foot massage, that is based on this map, you must know the pressure points. The basic principle is simple, applying pressure to the points that the map shows as appropriate, stimulate the central nervous system. The foot reflexology is used by the best masseuses who know the map used for this therapy Foot. Therefore, it has produced a practical guide to enable any beginner to massage these features.

Reflexology
O Hypophysis (pituitary)
1 Head
2 Frontal sinuses
3 Brainstem, cerebellum
4 Epiphysis
5 Temple, trigeminal
6 Nose
7 Nape
8 Eyes
9 Ears
10 Shoulder
11 Trapezium
12 Thyroid
13 Parathyroid
14 Lungs, bronchus
15 Stomach
16 Duodenum
17 Pancreas
18 Liver
19 Gall bladder
20 Solar plexus
21 Suprarenal
22 Kidney
23 Ureter
24 Urinary bladder
25 Intestinum tenue
26 Appendix
27 Ileoceleal valve
28 Ascending colon
29 colon transversum
30 Descending colon
31 Intestinum rectum
32 Anus
33 Heart and blood circulation
34 Spleen
35 Knee
36 Ovary, Fallopian tube/testicles
37 Underbelly
38 Hip
39 Lymph nodes (head, Thorax, armpits)
40 Lymph nodes (Abdomen)
41 Tanker lymphatic (Thorax, trachea)
42 Inner ear (balance)
43 Breast / Chest
44 Diaphragm
45 Tonsils
46 Maximilar lower
47 Maximilar top
48 Larynx, trachea
49 Anus
50 Uterus / Prostate
51 Vagina / Penis, urethra
52 Bowel straight Hemorrhoids
53 Cervical vertebrae
54 Thoracic vertebrae
55 Lumbar vertebrae
56 Sacral and cixigeas
A- Clavicle
B- Sternum
C- Thymus
D- Pleura
E- Childbirth"
F- Ribs
G- Mouth
H- Llíaco
I- Thigh
J- Knee
K-Leg
L-Feet
M- Coccyx
N- Sacro
O- Hypogastric plexus
P- iliacus
Q- Sciatic nerve
Hands
Reflexology can be applied to the hands, feet and ears. There are strategic points located in these parts of the body that reflect in our internal organs through electrical impulses that are transmitted to the brain when we stimulate them.
Understanding the reflexology of the hands is essential to start using this technique beneficial to our health. Reflexology is a massage technique that acts on certain points of the body in order to provide relief from some pain, treatment and prevention of some ailments and a relaxing well-being. The technique is ancient, and was first mentioned by the Egyptians about 2,500 years before Christ.
Today, after several investigations and verification of the benefits it brings to health, it is one of the most used techniques in the West also as a means of providing health.
Reflexology Hands
As in other parts of the body such as feet and ears, we can also find reflex points on the palms and the back of the hands. Each point corresponds to a type of illness, discomfort or stress. When properly pressed they provide well-being and immediate relaxation.
Because it is an exposed part of the body, reflexology of the hands can be practiced in the office, traveling by public transport, or at home watching television. This practice will undoubtedly relieve the symptoms of stress, nervousness and tension, but if you want to address some type of ailment, the ideal is to find an expert manual therapist trained in this technique.
Reflexology is indicated for a good number of occasions:
Migraine: headaches caused by hormonal changes, stress or tension.
Chronic constipation: slow intestine, lazy and little functional.
Blood circulation: poor blood circulation can be caused by obesity or the continued use of the contraceptive pill.
Stress: symptom of nervousness and impatience caused by the numerous commitments and stress situations of day to day.
Anxiety: symptom triggered by stress situations.
Fibromyalgia: syndrome that causes symptoms such as fatigue, pain and sleep disorders.
You can use hand reflexology yourself to relieve the symptoms of headaches, congestion and sore shoulders. The reflexologists requires you to apply more pressure than you would use on your feet because the reflection points in your hands are much deeper.
Reflexology of the hand is a natural technique, and includes the use of aromatic essential oils, which can also be very effective against certain ailments. Some oils enhance the power of massages, as they contain beneficial elements for the body and correspond to a natural treatment.
Start your Reflexology Hand Massage
Step 1: Sit in a comfortable chair in a quiet room.
Step 2: Enter a state of relaxation using a bit of your favorite oil hands. Oils and creams are normally not used in professional reflexology sessions, but will not hurt to use them in an informal session.
Step 3: Rub the cream on your hands for several minutes until completely absorbed. This will relax your hands and increase flexibility in preparation for applying reflexology. Be sure not to use a cream or oil greasy your hands are not slippery.
Step 4: Close your eyes and focus on any area of your body where you feel an uncomfortable pain. Sometimes you just feel as if some part of your body feel misaligned.
Step 5: Consult a hand reflexology map to identify the points of reflection in your hands that correspond to the parts of your body you want to work. For example, if you have pain in your left shoulder, you have to query the map and see that the points of reflection for your shoulder are located on the little finger of the left hand.
Step 6: Firmly press the reflex point. You can gradually increase the pressure to make sure you're "activating" the reflex, but loose a little if you feel some pain.
Step 7: Hold the pressure for 30 seconds and release.
Step 8: Wait a few seconds and repeat. You can press either 30 seconds or you can press and release the point of a pulsed for 30 seconds.
Hands Reflexology – Final Steps –
Step 9: Use your thumb to apply light pressure technique pressure if you are uncomfortable. To do this, use a circular motion over the same point of reflection for about 5 seconds, then rotates in a circular in the opposite direction for 5 seconds. Repeated several times for each point of reflection.
Step 10: Reflexology applies to all areas in both hands, but lend him more attention on problem areas.
Step 11: When you've finished your reflexology session sit quietly for at least 10 minutes. If possible, lie down and rest well for half an hour.
Step 12: Drink several glasses of water after applying reflexology. Water will help to drain the toxins released from your organs and muscles during the session.
Hand reflexology is a back rub procedure that squeezes different reflex focuses around your hands. The conviction is that these focuses connect to various body parts and that kneading the focuses can assist with mitigating indications in different territories of the body.
There's restricted research supporting the advantages of hand reflexology. Huge numbers of the examinations seeing its belongings have been little and conflicting.
In any case, these examinations didn't discover any dangers or negative wellbeing impacts related with hand reflexology (albeit pregnant ladies ought to stay away from it, as clarified underneath). Furthermore, there's a lot of recounted proof from individuals who attempted it and discovered alleviation.
Continue perusing to become familiar with the science behind hand reflexology and some regular weight focuses you can attempt.
For nervousness
A recent report indicated that hand reflexology decreased nervousness in individuals who were going to experience coronary angiography (an insignificantly intrusive strategy that assists with diagnosing heart conditions). Individuals who had hand reflexology or a basic hand rub experienced less uneasiness about the technique.
For nervousness help, apply strain to the Heart 7 (HT7) point. It's discovered just beneath the wrinkle of your wrist on your external hand. You should feel a little scratch here. Back rub this territory for one moment on two hands.
For stoppage
Reflexology may assist with calming both physical and passionate reasons for blockage. A little 2010 examination found that 94 percent of members detailed having less stoppage manifestations following a month and a half of hand reflexology.
A considerable lot of them additionally had decreased indications of uneasiness and sorrow, proposing that hand reflexology might be particularly useful for stress-related clogging. Notwithstanding, the examination had just 19 members, so progressively huge scope considers are required.
Attempt it by finding your Large Intestine 4 (LI4) pressure point. It's situated between your thumb and forefinger. Utilize your fingertips to apply strain to this plump webbing on your correct hand for one moment. Rehash on your left hand.
For cerebral pains
Reflexology might be helpful in treating cerebral pains, particularly on the off chance that they're brought about by pressure or tension. An audit from 2015 detailed that reflexology positively affected cerebral pains. In the wake of getting treatment for a half year, the greater part of the members saw diminished indications. Right around 25 percent of them quit having migraines totally, and around 10 percent had the option to quit taking prescription for cerebral pains.
Take a stab at utilizing the equivalent LI4 pressure point depicted previously. Back rub and squeeze the beefy territory, concentrating on any irritated zones.
You can likewise attempt the Pericardium 6 (P6) point. You'll see it a couple of creeps underneath your wrist wrinkle between the two ligaments. Delicately knead this point for one moment on two hands.
Is it safe? (Disclaimer)
Hand reflexology is commonly sheltered, with a couple of alerts.
Caution
Pregnant ladies ought to keep away from pressure point massage in light of the fact that specific weight focuses can initiate withdrawals. On the off chance that compressions are wanted, pressure point massage should just be utilized with your primary care physician's endorsement.
You ought to likewise converse with your PCP before attempting hand reflexology on the off chance that you have:
circulatory issues of the feet
irritation or blood clumps in your legs
gout
thyroid issues
epilepsy
low platelet tally
looseness of the bowels
bacterial or contagious skin contaminations
open injuries
hand irritation
fever or any irresistible ailment
Furthermore, ensure you don't quit following some other medicines recommended by your primary care physician except if they advise you to do as such.
The reality
Hand reflexology might be a helpful apparatus for decreasing manifestations of torment and stress. Simply recall that a significant number of hand reflexology's advantages don't have any logical sponsorship.
Notwithstanding, having a hand rub will be unwinding. Diminishing pressure and being in a quiet state can assist your insusceptible framework with functioning better. Also, you'll likely feel good.
Stay aware of any continuous treatment plans suggested by your primary care physician, and quit applying pressure if your side effects appear to deteriorate
Face
Relaxation exercise with Facial Reflexology Chart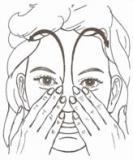 Here is a simple exercise you can practice when you wake up or during any time of the day you need to relax. It only takes a few minutes.
Start rubbing hands vigorously against each other for warmth.
Then put the palms of the hands-on the face on each side of the nose, fingers upwards.
With pressure, raise your handsalong the central axis to the roots of the hair and then get hands-on each side of the face to the jaw and chin.
Repeat the movement several times.
This exercise relaxes, activates blood circulation, and energy.
How Does Face Reflexology Work?
Through firm touch and muscle control to the face, Face Reflex strategies reestablish the vitality, sending equalization to blocked zones that it needs the most. Facial incitement is incredible in light of the fact that it has the most limited pathways for the nerve cells interface with the Mind stem and it discharges synthetic compounds called endorphins. Endorphins guarantee your psyche is in a stable upbeat spot. The Sorensensiste Face Reflexology attempts to make an impression on the Central Nervous System (CNS) to guide the vitality to explicit organs and organs to manage your blood, hormones, and above all, support your resistant framework. It is additionally a basic exercise for the face to get a more youthful and more beneficial look.
Ears
EAR massage:
Step 1: Check reflexology chart ears to find the reflex points to any particular issue you are experiencing so you can be sure to focus on those points during the session.
Step 2: Sit in a comfortable chair in a quiet room.
Step 3: Put your hair back if it is long or can interfere with reflexology.
Step 4: Start with the ear lobes of both ears. Press your lobes and you gently pull them down – only a gentle tug downward, do not pull hard or you may experience pain. Step 5: Trace the outer edge of the ears up and about. Repeat this movement several times.Sit in a comfortable chair in a quiet room.
Step 6: Identify sensitive areas in the ears, if any. Pay attention to any place in the ear more sensitive feel, any irritation or pain when you press or squeeze.
Step 7: Starts at the top of the right ear and slowly make the thumb and index finger is placed along the outer edges, continuing to the end of your ear. Apply pressure to the outside edge of the ear gently press and release each point along the ear. For best results, repeat this procedure at least five times. Go slow and keep the pressure for at least five seconds before slowly moving down to the next point.
Step 8: Repeat this process on the left ear.
Step 9: Work on internal cracks ear, if you wish, as there are many reflex points there too. Reflexologists ear professionals typically use a small stick to work these points because the fingers are too large to detect a reflection.
Would you be able to Relieve Headaches with Acupressure?
Pressure point massage
Ear infections and migraines are now and again brought about by sinus irritation. Weight that develops in your sinus holes can cause your ears to feel "stuffed up" or cause difficult throbbing around your sanctuaries and behind your ears. For quite a long time, pressure point massage and back rub have been utilized as a solution for agony and weight in your ears and head.
Pressure point massage is an elective medication method dependent on certain "vitality focuses" on your body. There's proof to propose that pressure point massage can be utilized to treat wellbeing states of the sinus territory and ear channel. The weight focuses on your ear are known as the "auricular focuses."
Pressure point massage includes squeezing similar regions where a needle therapy needle would be embedded. This would show that weight focuses on parts of your body that aren't in torment can treat and assuage the indications of cerebral pains and ear infections. Continue perusing to discover what we think about pressure point massage and comprehensive medication.
The science behind weight focuses, ear infections, and migraines
The proof we need to help pressure point massage as a migraine treatment is for the most part recounted. There is some evidence rested Source that rub treatment, which invigorates pressure focuses just as flow, can lessen head torment and advance sinus seepage. A survey of the literature trusted Source recommends that seepage of the lymph hubs on your neck can be performed physically, and may prompt head and ear help with discomfort.
In the event that your torment is identified with pressure, sensitivities, or sinus blockage, treatment with pressure point massage is genuinely okay and may merit an attempt.
Weight focuses on ear infections and cerebral pains
On the off chance that you might want to attempt pressure point massage to treat a migraine or ear infection, follow these means:
Ensure you are in a loose and calm setting, and in an agreeable position. Take in profoundly for a few breaths before starting your treatment.
Utilizing a firm, profound weight, knead the weight focuses you have distinguished on your body. Turn your fingers in a round or all over movement for a few minutes at each point, concentrating on each in turn.
Rehash the back rub treatment a few times during the day.
The following is a rundown of weight focuses, just as a rundown of conditions every case to treat.
Brow ('third eye')
Between your eyebrows and simply over the extension of your nose is a point once in a while alluded to as the "third eye." Acupressure now could advance sinus waste and ease pressure in your cheeks, jaw, and brow muscles. Utilize this constrain point to treat the accompanying hurts brought about by disease or nasal clog:
sinus cerebral pains
pressure cerebral pains
headache cerebral pains
ear infections
Sanctuary
At the point when you have a cerebral pain, scouring your sanctuaries may appear to be a programmed reaction. As per pressure point massage works on, rubbing the weight focuses on your sanctuaries can advance blood dissemination and help with migraine side effects. Attempt this cure on the off chance that you have a headache, light affectability, or a cerebral pain brought about by exhaustion.
Base of the skull ('wind manor')
This mainstream knead point is narratively viable to expand flow and improve unwinding. In the event that you have a migraine brought about by pressure or weakness, this could help calm your side effects. This weight point is once in a while called "wind manor," and can be found at the "empty" or "plunge" at the base of your skull.
Wind screen
This point can be discovered right behind your ear cartilage. Animating this point with pressure point massage back rub may calm ears that vibe "stuffed," just as help to diminish tinnitus and headache.
Ear-entryway
This weight point is found legitimately before where your ear cartilage starts. Pressure point massage on this point is utilized to calm weight that develops around your jaw and in your ears. This could make it compelling in treating tinnitus, ear contaminations, ear infection, strain cerebral pain, and headache.
Daith
This point is situated on the top piece of the deepest ligament of your external ear. A few people see this specific weight point as so powerful at treating headache that they get a penetrating at the daith to invigorate it. Invigorate this constrain point to ease headache cerebral pains just as pressure and bunch migraine.
Hairline bend
This point is situated on your head, around 2 creeps over the highest point of your ear. A recent report proposed that animating this point was especially successful for treating tinnitus.
Paradise's column
These two weight focuses are situated on either side of your neck, around 2 creeps beneath where your skull starts. You can animate these weight focuses simultaneously or decide to concentrate just on your head where you are having torment. Invigorating paradise's column focuses could assuage sinus torment, ease pressure, and help with an ear infection or headache.
Ear summit
The aftereffects of a 2011 studyTrusted Source on needle therapy recommended that "auricular" pressure point incitement was a viable headache treatment. The ear zenith, situated on the ligament at where your ear goes to its most elevated point, is an auricular weight point well known in medicines for ear infection, headache, and strain cerebral pain.
Among thumb and index finger available ('association valley')
This weight point is situated on the "webbing" between your thumb and index finger. In spite of the fact that it might appear to be weird to treat a migraine or ear infection utilizing a weight point on your hand, this comprehensive cure is very famous and notable. Individuals use pressure point massage on this point to treat various sorts of painTrusted Source, including migraines, queasiness, wooziness, and gastrointestinal issues.
Disclaimer:
Address your primary care physician on the off chance that you can't discover help from your cerebral pains and ear infections following a few days. There are times when these manifestations can demonstrate an increasingly genuine wellbeing condition.
Eyes
BRIEF HISTORY OF THE IRIDOLOGY
The history of diagnosis through the iris goes back to the dawn of civilization. It is interesting to know how 400 years BC, and Hippocrates was convinced that detailed observation of the eye, particularly the iris could reveal important information about the health status of paciente. In the third century BC, Philostratus said "the nature of human beings is recognized by the eyes. "Later Philippus Meyens in his book "Medical Chiromática" written in Dresden, Germany, in 1670, said of the iris: "At the top is the head, stomach have a close relationship with it, can be found all stomach diseases reflected from inside the eye.
The right part of the eye shows the status of all organs which are on that side of the body, including the liver, right kidney, etc.. on the left side of the eyes may be members that are on that side of the body, ie the heart, spleen, reflected in particular addition or depletion impotence. The bottom of the eyes reflect the genitals, intestines and kidneys, from the analysis can be defined colic, jaundice, kidney, gallbladder diseases and venereal. These signs are composed of arteries, blood streaks and spots on the eyes. eyes When there are too many spots and lines, this means that the human body is sick. red spots or lines mean warm blooded white spots indicate watery blood … ".
The numerous investigations by eminent Iridologists as B. Jensen, Bourdiol, J. Deck, etc., Have shown that the iris responds to any state or condition that is occurring in the body, both the anatomophysiological and psychologically. Similarly defined in the upper head is reflected iris and its various parts and organs, whereas in the lower region are represented genitals, kidneys, gall bladder, the lower limbs and other organs.
Baby
The idea is to focus on specific reflex points on the feet and match them with the organs, body, and bones. Here is a list of the most popular spots to work with:
Head and teeth – If a baby is teething, massage the tip of the toes to provide them with quick relief.
Sinuses – When a baby is constantly sniffing, has a runny nose, or trouble breathing, it could be the sinuses. To release that mucus, try massaging the center of the toes. It's a popular spot for a baby massage during fever.
Lungs – In case of chest congestion, it is a good idea to rub the balls of the feet. The spot just below the neck of the toes is directly connected to the lungs.
Solar plexus – This is a complex network of nerves that are connected with the abdomen. Sometimes, massaging the area can help calm an upset tummy, tightness, spasms, and trouble breathing.
Upper abdomen – This massaging baby's feet for constipation is the one I used. Since the bowels are linked to the upper abdomen, the gentle rub can help with the obstruction.
Lower abdomen – This is another spot for constipation. The area is directly linked to the large intestine. With gentle rubs, you can alleviate constipation and discomfort. This is something many moms use for a baby who is super gassy.
Pelvis – The baby heel is connected to the pelvic region. When there is a tummy ache or hip discomfort, massaging this area can help.
Of course, these techniques are not meant to replace medications. I mainly used the baby foot massage for wind as a natural home therapy that alleviates discomfort. If you are worried about using too much pressure or doing a bad massage, you should consult with a pediatrician.
Children
This technique, adapted especially applies delicate movements on certain areas of the baby's foot. Early demonstrations showed positive effects on children suffering from asthma. Currently this method is used, for example, the benefit of the following:
Improves mood
Facilitates sleep
Stimulates the immune system
In addition, the child reflexology is useful to strengthen the bond between parents and children, as many times what the baby needs is that dad or mom and contain cuddled in his arms. However, it is an ally reflexology when relieving the following processes:
Colic
Gases
Tooth eruption
Constipation
Diarrhea
Ear infection
Allergies
Pets
Dog Reflexology
Using this massage technique has a ton of great benefits for humans, but what can it do for our furry friends? Performing reflexology on your dog will:
Improve blood circulation
Improve lymph circulation
Build trust and bonding
Aid in behavioural problems
Disperse pain in tensed muscles
Reduce stress and tension
Restore mobility and flexibility
Restore homeostasis
Pet The Pet
You may think of this as just "rubs" or "pets" for your pet, but dog reflexology is a little more specific. Dog reflexology is the holistic approach to restoring health and balance to your dog's inner-workings. By using gentle pressure and specific circular movements on your dog's paws, ankles, wrist and legs.
Disclaimer: Dog reflexology will not replace a veterinarian, but it is a great addition to your dog's life and will help your pet live a longer, happier life with more ease and less pain.
Reflexology Books